7 DIY Gifts that Don't Suck
You all know that I am a fan of experiential gifts. However, I didn't want to leave people who are into physical gifts hanging this holiday season.
When you think about a DIY gift, you usually start with the best intentions. You want to create something that is more meaningful than what you could shell out money for at a store. You want to spend time and effort on a gift, which means you are necessarily thinking about the recipient, which in and of itself is a present. Plus, you get to save money in the process! But the best intentions don't always pan out the way we want them to.
Let's face it. Most DIY gift ideas are terrible. They are either too difficult, or too easy (and look like you spent about 5 minutes on it). They can be utterly useless to the person you are giving it to, or creating it can be so expensive that you should have bought a real version of it instead.
DIY Gifts Should Be:
Useful or Desirable
Personal
Less Expensive than Buying It in a Store
With that in mind, I present the top 7 DIY Gifts that don't suck.
These coasters are awesome! The only reason that this DIY gift is down at number 7 is that you have to know someone who likes comic books. But seriously, what comic book fan wouldn't want these? Pick out the person's favorite character or specific panel and go to it! If anyone wants to make Calvin and Hobbes coasters for me, I wouldn't mind! The metal rings are apparently $1.60 at Home Depot and the other materials aren't too expensive either. Follow the great instructions at the Mod Podge Rocks Blog.
Desirable?
Maybe I'm biased, but in my opinion, absolutely.
Cheap?
Check
Personal?
Check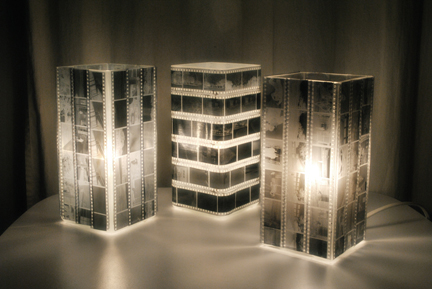 I stumbled across this project mentioned on various blogs and pointing to a site called Poopscape.com. Perhaps unsurprisingly, the domain has expired and there is nothing there except advertisement links.  However, I did the digging and found the project for you. Now, in case this site goes down, the process is fairly simple. Buy some Mod Podge and a Grono Lamp from Ikea and use the Mod Podge to stick negatives to the lamp – boom. Ok, fine – also add an additional layer of Mod Podge over the final product.
Desirable?
Depends – this one has to be for the right person (hipster, baby boomer, etc)
Cheap?
Check
Personal?
Check
5. HOMEMADE FOODS GIFT BASKET
There are a ton of homemade food gift ideas out there, but personally, if I showed up with a jar of flavored sugar as my only gift, I would be ashamed of myself. A full basket on the other hand with a variety of homemade foods is much better. In addition, you can make large batches of each food item, split them up and have gifts for as many people as you need, cutting your costs even more. Here are a few sources for food gift items. Choose a few of these and pack em up!
Buzzfeed (#18 – Adult Hot Cocoa w/ a bottle of Bailey's is a GREAT idea)
Bon Appetit
Midwestern Living
Desirable?
Check
Cheap?
Check
Personal?
This is where this one falls short slightly. However, after this list I talk about including a note with every DIY gift. That's where the personalization comes in. For example, you could say "I know how much you love bacon, so I thought the candied bacon would be perfect for you" or "Remember that time we were so cold and had to share a cup of hot chocolate to warm up? My homemade hot chocolate mix will make sure you always have a way to beat the cold", etc.
I discovered this great Instructables article on how to create coloring book pages with Adobe Photoshop. Now, before you dismiss this one because you don't have or know Photoshop, there is another way.  Of course, to do this yourself, you will obviously have to have access to Photoshop and have some familiarity with the program, BUT if you don't, take a look at Fiverr.com. There are MANY people out there willing to do your Photoshop work for $5. A quick search revealed, among many others, this listing that would work for you. Once you have those images, print them out and bind them together with some ribbon.
Desirable?
Check – But has to be for the right person (child, hipster)
Cheap?
Check
Personal?
Check
This one is pretty great. Leather-bound journals are always a classy gift, but when you can personalize them with the recipient's name? Even better! I haven't done this one myself, but I would guess it's a little more challenging than some of the other ones on this list. However, the fact that it might be challenging shows in the quality of the end result. I found this one on the Mufn Inc blog.
Desirable?
Check – But has to be for the right person (child, hipster)
Cheap?
Check
Personal?
Check
2. BOOZE INFUSIONS
I actually received this as a gift recently and loved it. There are many different types of infusions you can do and since this is a special gift, buy smaller bottles and your booze can become multiple presents for different people. Here are a few recipes:
Fruited Liqueurs
Coffee Liqueur
Jolly Rancher Vodkas
But don't stop there! Peanut oil, mint, hot peppers, ginger, cinnamon, bacon – there are SO many possibilities for alcohol infusions. Vodka is an easy base to stick with, but if you have a great idea, don't be afraid to go with bourbon or tequila or something even crazier!
Desirable?
Check – as long as they are over 21
Cheap?
Check
Personal?
This one is up to you to choose the right ingredients and be creative with the note as well.
1. PERSONALIZED PHOTO CANVASES
I wanted to put the booze at #1, but given that the recipient has to be a drinker and airplane travel with homemade booze can be a little tricky, I decided to put this at number 1. These instructions for how to create canvas prints are great.  The rubbing part takes a little time and effort, and there is the worry in the back of your mind that you will mess everything up. But the imperfections that come out are truly part of the appeal for me. Everyone will love this, especially if you choose the right photos. Your mom will love a wonderful shot of the family. Your college friend will think a classy black and white version of you two drunkenly missing a high-five is hilarious. Be creative!
Desirable?
Check
Cheap?
Check
Personal?
Check
BONUS: And That's Why You Always Leave a Note
A note can REALLY help sell the personal part of the gift. It can be as simple as a sheet of paper, or even a print-out. The presentation here matters less than the content.  The note should talk about the process of creation and allude to the fact that you were thinking about the person while creating it. For instance, you might give someone a photo canvas and talk about how you laughed remembering that day as you were working on the gift. You could tell someone that you know how much they like peaches and vodka, which is why you decided to combine the two. The note is what transforms your gift from "this thing I made you" to "a special, personal gift"
HONORABLE MENTIONS:
DIY Pandora Jukebox
– Very cool if you are good with electronics, but a high difficulty and expense level. Programming the different "stations" allows you to give it a different kind of personal touch.
Knitting – This is always a good one and impressive. However it does take time both to learn and to do.  There are all sorts of tutorials on youtube that you can use to teach yourself however. Tip: start with a scarf.
Balloon Luminaries – Not terribly personal, but I imagine you could decorate them to be. Kind of a cool process that doesn't seem too difficult. Again, the note could really help you out with making this more personal.
Sports Team Blanket – My only problem with this is that it doesn't SEEM like you put a lot of work into it, when you actually did. However, again, the note could fix that. And it is personalized to the person's favorite sports team or college.
Like this post? Sign up to receive posts via email and never miss a tip for living well and saving money!